Bob's Flight  25 October 2017
Bob, who recently retired, called me up to satisfy his curiosity about gyroplanes and we decided to make a day of it on Tuesday.  Bob is a 3,000+ hour single engine, instrument rated private pilot so he already knows much of what I teach and just wanted to find out if gyroplanes were as much fun as they looked.  He flew his RV10 in from Fresno that he built over three years.

We still had the remnants of the Santa Ana winds so we had record heat reaching 108 degrees F in San Luis Obispo with occasional whirlwinds that made for some interesting touchdowns.


We flew straight out and I gave Bob the controls about 100 feet above the ground.  Bob climbed to 800 feet and managed airspeed and altitude to better than practical test standards (PTS).  I did my little demonstration of steep turns, slow flight and a power off vertical descent and gave Bob back the aircraft controls as we headed toward the shoreline.  Bob did a great job of following the shoreline and continued to exceed the PTS.  The ocean was beautiful and seemed a richer, darker blue. 


One of my fuel level gages was acting badly so we stopped at Oceano (L52) and dipped the tanks.  There was plenty of fuel for the mission but as long as we were stopped in front of self-serve Bob filled her up.  Oceano's runway 29 is fifty feet wide by 2,325 feet long with a 25 foot bush at the end.  At maximum gross takeoff weight on a hot day in no wind conditions, I was pleased when we lifted off at about 800 feet and climbed out nicely.  We found a whirlwind about half way down the runway and it just moved us around a little, slightly delaying our climb out.


Coming into San Luis Obispo we were number two behind a Cessna for runway 29; report in sight and Bob saw him before I did.  His lead in to turns was great and he had a little trouble adjusting to how fast a gyroplane can turn 90 degrees.  I took the controls just before touch down and set her down nicely.  Before we had taxied more than ten feet we hit a very strong whirlwind and I was glad I had the aircraft controls.  
We debriefed in the air-conditioned Spirit of San Luis Restaurant over a nice lunch.

During preflight a couple of fellows came wearing shirts from a flying club in the valley and added to the fun.  I feel any hangar flying is good hangar flying. 


I asked for a left down wind departure to the east but inbound traffic and a departing Bonanza had Air Traffic Control (ATC) asking us to make a right, down wind with an early right cross wind for the faster Bonanza.  Our right down wind departure was a little challenging because we needed to remain north of the centerline for inbound traffic against the lee side of the mountains, so I kept the controls until ATC cleared us to cross the centerline.  The heat had my oil temperature in the yellow and wondering what to do if it reaches the red.  Fortunately it did not, although we discussed landing at Oceano. 


We landed back at Santa Maria and I briefed Bob for his first landing.  We took off and I demonstrated a landing and gave him the controls.  The first day with each student has a memorable magic moment (MMM) and my MMM with Bob was when a let him know he had flared a little high and I felt the stick move slightly forward to regain air speed.  I feel it is completely counterintuitive to put the nose down to pick up airspeed when the ground is rushing up to meet you and that is why I spend a lot of time on that subject.  To transfer an intellectual concept into muscle movements is not a simple process in an unfamiliar environment.  Bob greased his first landing after 1.9 hours of dual.


Bob is flying back to Santa Maria next Tuesday suggesting to me that it is as fun to fly gyroplanes as it looks.  I suspect I will be able to sign him off for his proficiency check ride in ten hours of dual.


I love being a gyroplane CFI!

Have questions or comments on this filght?  Please visit my Face Book version and post your comments!​
Click Here
BreeseAircraft.com
Gyroplane
Flight Training​​

Michael's Adventure  23 October 2017
Michael called me up to satisfy his desire to learn more about gyroplanes.  He lives about three hours away so we decided to make a day of it on Sunday.  He had never flown small aircraft so I wanted a nice gentle experience for him.  On Saturday the winds were pretty strong at Santa Maria (SMX), often exceeding my gust spread limit of ten knots, but it was supposed to be nice Sunday so I sent him an email to come on ahead. 


We spent a couple of hours getting familiar with the aircraft and checked the Automatic Terminal Information Service (ATIS) for the latest weather and the winds were reported at 020 degrees at 7kts.  I checked the weather on flight service for San Luis Obispo (SBP) and they were reporting a strong wind shear at 1,000 feet and moderate turbulence.  SBP is in a valley with mountains all around so the wind can swirl around like the water in a toilet bowl.  I suggested we change our destination to Lompoc to stay out of the wind shear but Michael had heard how well gyroplanes handle winds and wanted to find out.  He also wanted to fly up the beach because he had seen my pictures. 


There was an incident on the main runway at SMX (30), so runway 2 was in use.  The wind had shifted to 290 degrees at 13 knots gusting to 23 knots.  Take off was better than I expected and after having Michael wag the tail I gave him all the controls.  We worked on his technique a little and headed out toward the beach.  I briefly took the controls to demonstrate steep turns and a 'power off vertical descent' and gave them back to Michael and instructed him to fly straight to the beach, descend to 500 feet and heading up the shoreline.  Usually the winds along the shoreline are more stable than inland but not today.  Michael did a great job of managing airspeed, altitude and direction of flight and I didn't touch the controls till we were on final for runway 7 at SBP.  The tower let us know of several pilot reports of wind shear and moderate turbulence and offered us the shorter, narrower runway 7.  I had full right rudder over the numbers and I was about to go around when the wind simply stopped (middle of the swirl) so I dropped her in a little fast.  Before we exited on taxiway Kilo I was on the left brake because I encountered the other side of the bowl.  We had a nice lunch and debrief with a few of the usual interruptions asking "what it is like to fly that thing in this wind?"

 
A Black Hawk pilot and a Chinook pilot who were transitioning to fixed wing in a Piper Archer stopped by during our preflight and told of their wild ride into the airport. They recommended we stay away from the mountains because of turbulence.  I wanted to get away from traffic so Michael could explore the freedom associated with flying so we headed for the mountains anyway.  On takeoff from runway 11 it was a direct cross wind, sometimes changing to a tail wind and except for being a little long, take off was nice.  We were on the left side of the mountains and The Predator didn't want to climb above 1,500 feet because of the turbulence (we would get stuck in a rotor).  At one point when we should have been climbing at 500 feet per minute I saw 400 feet per minute of descent so I gave Michael the controls and we headed for SMX.  We were pointed about thirty degrees left of our flight path and Michael handled it beautifully.  I needed a year of experience before I handled turbulence as well.  


Michael was able to find the airport from twelve miles out (very unusual) and entered the downwind for runway 2 correctly.  I took the controls on down wind and talked Michael through the landing.  Just as I was explaining I was going to aggressively plant her because of the turbulence but we caught a lot of lift from a gust and ballooned up.  We floated along knowing that on the other side of lift is sink and lucked out on the timing and set her down as nice as could be.  We headed back to the hanger to debrief and plan Michael's path to becoming a gyroplane pilot. 

I love being a gyroplane CFI and I look forward to sharing Michael's gyroplane adventure!


Have questions or comments on this filght?  Please visit my Face Book version and post your comments!​
Click Here
BreeseAircraft.com
Gyroplane
Flight Training​​
Ken Brock Freedom Fly-In  14 September 2017 (Part 1)
I am working on The Predator to prepare her for the 500 mile adventure to El Mirage Dry Lake and the Ken Brock Freedom Fly In; September twenty first through the twenty forth put on by Popular Rotorcraft Association, Chapter 1.
This has been going on for more than 50 years and there are a lot of very special people there.
I will have my rucksack in the back seat and will not be giving flight instruction at the Lake.
It can be a weather challenge with Fog in the morning departing Santa Maria and winds in the afternoon in the high desert.
Anything that flies or rolls is invited.
Bring a hat, sun screen and cloths that will manage 90 degree heat and 40 degree cold.
Hope to see you there.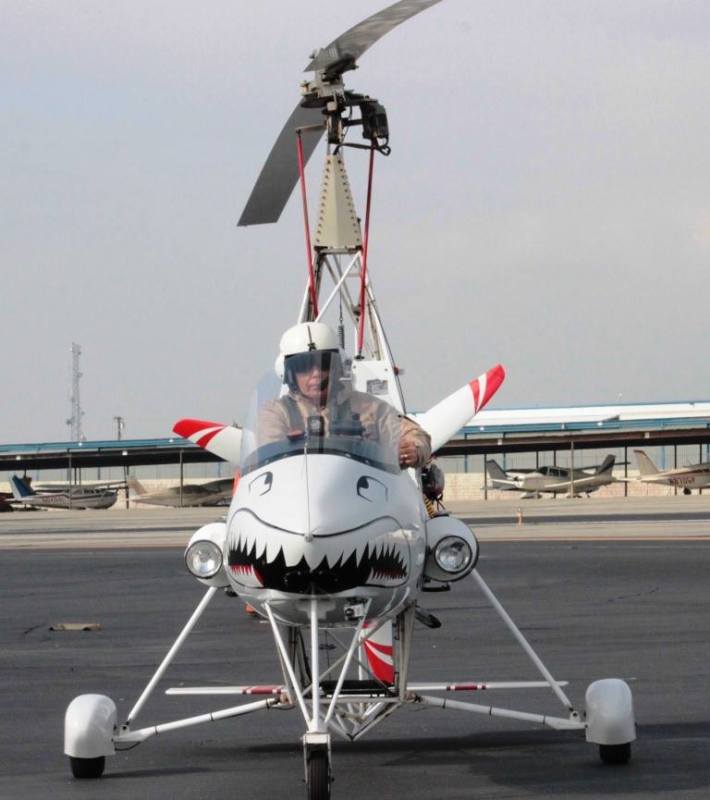 Have questions or comments on this filght?  Please visit my Face Book version and post your comments!​
Click Here
Ken Brock Freedom Fly-In  26 September 2017
(Part 2)
It was a perfect day to fly and I was delayed by the minutia of life. The plan was to fly to Santa Paula for lunch and then on to Fox Field in Lancaster to meet a client (Mary) for a first gyroplane flight lesson. I figured after the flight I would head off to The Ken Brock Freedom Fly In. I was going to camp in John Steven's camper on the lakebed.
I did a careful preflight and loaded up my rucksack. I called up flight service and they were predicting good weather along the entire route of flight throughout the day. I was wheels up at 10:30 heading for Santa Paula with wind 290 degrees at 6kts.

The sun was just right over Lake Cachuma making a silvery shimmer that is only partially represented by the picture. I didn't have much chance to enjoy the view before approach warned me of an opposite direction Piper at my altitude 12:00 3miles. I began frantically searching the skies and climbing figuring he was probably descending to land at Santa Inez. Relived when I finally had the traffic in sight and I was about 700 feet above him. Approach said they had lost radar contact and expect radar contact over the San Marcos Pass. Approach said the Piper was at my six o'clock at 3,800 feet same direction; "I am not talking to him!" I dropped down to 3,000 but never saw him. I needed 3,500 feet for the San Marcos pass so I began to climb when I felt enough time had passed.  
I was disappointed it was not clear on the other side of the hills.

Santa Barbara Approach had me make some altitude adjustments for traffic avoidance.  It was a little bumpy over the hills coming into Santa Paula but they weren't very busy. I fueled up and had lunch at the Highway 26 Cafe.  I checked the weather and everything was still good to go.


Abeam Magic mountain things got pretty bumpy as I crossed the Newhall Pass so I began a climb to 6,500 feet so I could go straight over the ridges toward Fox field. It was bumpy over the first ridgeline with Bouquet reservoir was tucked against the second ridge and I could see the high desert and barely make out Fox field in the distance. I checked the ATIS and called Fox tower nine miles to the southwest descending through 6,000 feet inbound to land with Victor. I had to repeat type aircraft twice. I was to make left traffic for runway 25 and report established on the downwind. I asked for a long landing and it was approved as requested.


Mary is an exceptionally bright inquisitive woman fixed wing pilot and had lots of questions. She understood my desire to teach on the ground and demonstrate in the air. She did not rush any of my explanations and asked a lot of good questions. It was getting a little late and I don't like to fly at night over the desert so we decided to fly the next morning to the event so I stayed in Mary's guest cottage in Palmdale. We rolled The Predator into the historic Barns Aviation Hangar and headed off to dinner with some wonderful friends of Mary's who live in the Rosamond Skypark; an airport community that attracts some aviation luminaries. I love how the love of aviation allows complete strangers to carry on exciting conversations so quickly. We had great fun till 10:00.


A little after 8:00 AM we rolled The Predator outside and worked through our preflight and checked the weather. I reviewed much of yesterday's ground instruction and Mary had retained everything and had more questions.
Mary did extremely well managing airs, altitude and heading to practical test standards. I suspect she will be landing and taking off by the end of our next hour. I love introducing someone to the joys of flying a gyroplane flying 500 to a thousand feet above the ground. I demonstrated steep turns, rudder turns, slow flight and a power off vertical descent and gave Mary back the controls. We saw some of the circles left by central pivot irrigation and I demonstrated turns around a point. We had about a 15kts wind so it was a great way to lean about flying in a crab. Mary flattened her first one and the second one was perfect again managing airspeed and altitude to practical test standards. As we came within sight of El Mirage I took the controls and Mary became an amazing spotter. She had everything in the air or on the ground reported well and I had just told her that we would be higher than everybody when she spotted Britta at 12:00 at our altitude. Britta descended to land to the west so after a lap around to see which way the wind was blowing I landed to the west touching down a little fast and becoming airborne again.


We were warmly greeted when we reached the flight line and had a hard time getting away to debrief. It turned the 15 minute debrief into over an hour for the hour flight. Weather permitting she will be taking off and landing by the end of her next hour. She did everything well and what she muffed the first time she did well the second time.


We had lunch and walked the flight line so I could show Mary all the different gyroplanes and explain the effect of the differences. We headed off to Sothern California Logistics for gas and my fuel pressure light came on even though we had an hour of fuel on board when we sticked the tanks at El Mirage. I took the controls and made a precautionary landing. I sticked the tanks again and we had 6 gallons. I could not diagnose the problems under those conditions so we parked The Predator at Tim's house in Adelanto and John Stevens came and picked us up. He went 100 miles out his way to help his friends. We all had dinner in Lancaster and John headed for home and Mary dropped me off at her guest cottage and headed off to a meeting.


Ed (my wife) hooked up the trailer and picked me up in Palmdale Sunday and then on to Tim's house. It is over 500 miles round trip.  Loading an eight hundred pound gyroplane on a trailer is not a quick job and it took us about three hours in the dark. A neighbor of Tim's came by who had a crane on his truck and kindly lifted The Predator on to the trailer. We arrived home at 3:00 after dropping off The Predator in the hangar.


I didn't get to spend much time with my friends at the Ken Brock Freedom Fly In and that is part of why I don't give instruction at events. I want to enjoy the event and I can do a much better job of instructing at my home airport.
​

Have questions or comments on this filght?  Please visit my Face Book version and post your comments!​
Click Here
Wings Over Camarillo Air Show  22 August 2017  ​(Part 1)

I had hoped to fly in the Wings Over Camarillo Air Show as I had before and it just didn't work out.  Displaying is the second best way to have fun at an airshow.  
I had a lovely adventure going to Camarillo that was enhanced by Steven; a friend/client that has a strong desire to learn to fly gyroplanes.  He is a Marin businessman that is only slightly younger than I am and has never flown anything before.  He has a regular Saturday appointment and when he called me Friday to confirm I told him about my plans to attend the Wings Over Camarillo Air Show Sunday flying down to Santa Paula after his lesson on Saturday and he asked if he could join me.  I explained at length the somewhat long walk from the Santa Paula Airport to the Ocean Gateway Inn, our inability to have a change of clothes, the somewhat hostile weather environment, our inability to leave Camarillo before 5:00 and the likely hood we would not make it back Sunday evening because of weather.  Steven had appointments Monday in Marin and it is about a six hour drive from Santa Maria.  
Steven was undeterred so it was time for a new plan.  We would meet at the airport at the Santa Maria Public Airport (SMX) at 8:00am and get The Predator ready for the flight and leave for Camarillo (CMA) as soon as SMX became VMC. 

I was in the middle of replacing the fuel lines and servicing the fuel system and Steven came by Friday evening to help.  I made a maintenance flight a little after 8:00pm and everything seemed to be working well.  I love turning on all those lights at night with the touch of a button in the aircraft and I was now night current incase Sunday went long.


I arrived early Saturday and checked my work in the light and then Steven helped me give The Predator a bath as we searched the sky for a patch of blue.  The temporary flight restriction at Camarillo started at 11:30 so we needed to leave Santa Maria no later than 10:00.  The sky did not cooperate and it was almost 11:00 before the aerodrome became visual meteorological conditions (VMC) and the temperature/dew point spread was still less than my minimum of four degrees so we went back to the original timetable and figured we would leave for Santa Paula after his flight lesson. 


Eighteen members of the Santa Ynez EAA were in the SMX tower taking a tour as we did our pattern work so I said my little prayer; "please don't let me screw up!"  Visibility was six miles in mist as we took off for Santa Paula (SZP) from SMX around 3:00 after lunch. This is Steven's first real cross country and I had not prepared him for it properly.  I told him to climb to 3,500 feet and gave him ground reference points to manage the flight over the San Marcos Pass.  He flew to practical test standards most of the time with an occasional lapse.  My trepidation about going beyond Steven's capabilities was waning. 


There was some thunderstorm activity about 35 miles to the North East so there was a fairly strong wind out of the south causing some down drafts on the lee side of the ridge line near Lake Cachuma.  I knew the controller working Santa Barbara Approach and he commented on our being at 3,600 feet when we hit a little updraft. As a VFR pilot I am expected to maintain plus or minus two hundred feet. He expects plus or minus 50 feet from me; aviation humor? 


Heading east over Lake Cachuma the San Marcos pass is a little hard to see.  We sort of turn right to traverse the pass and it was harder to recognize the pass in the mist that made the mountains look more like shadows. 
I was able to talk Steven through the pass. He seemed uncomfortable being up against the mountains to catch the lift.  These were the strongest updrafts Steven had been in and he managed it well pulling the power well back.  We stayed high through No Name pass so our track was less critical.  The mist made the height of the mountains difficult to judge and I explained to Steven we only needed 2,500 feet to clear the mountains by 500 feet.


They were landing on runway 22 and even though we had discussed the pattern entry at SZP it had not sunk in so I talked him through it.  There were four aircraft in the pattern so I took the controls over the golf course incase things happened fast.  Our landing was uneventful and, after fueling, we prepared The Predator for her stay; chaining her down with her gust lock and rotor bag on and her cover in place to keep the moisture out of the cockpit.  We spent some time talking to one of the locals helping Steven to understand the bond of all pilots.  
We took our helmets and the GPS with us and made our way to the Ocean Gateway Inn having a lovely dinner at the restaurant next store to the inn.

​
To be continued...


Have questions or comments on this filght?  Please visit my Face Book version and post your comments!​
BreeseAircraft.com
Gyroplane
Flight Training​​

Wings Over Camarillo Air Show  22 August 2017  ​
(Part 2)
This is the second part of our Wings Over Camarillo adventure.

Sunday morning I checked the weather at 6:00 AM and CMA was already VMC with a 1200 foot ceiling.  The buses didn't run till 8:20 so we walked to SZP arriving around 8:00. 


During preflight I found a broken body mount and called my friend Sam.  He had people working in his hangar at SZP and told me to use whatever I could find. I love the fellowship of aviation and all the friends I have met through flying. 


After pulling off the front nose panel I found that the two front body mount brackets had broken. There was a truck with a utility body on it and I asked my new friend from New York if he had any of these particular brackets on his truck.  He had three so with the use of Sam and Rowena's hangar we were able to pronounce The Predator airworthy by 9:30 and we were flying by 10:00 in plenty of time to arrive before the air show temporary flight restriction at 11:30 closed CMA to arriving traffic. 


CMA was busy but not chaotic. We were number two behind a King Air and I made a short, steep approach for runway 26 and set her down right at taxiway Bravo.  I contacted ground as instructed and they told me to taxi east on Foxtrot and contact the event ground once past Alpha.  I did and they asked; "parking or display?" I told him that gyroplanes are interesting and it would be nice if they made room for us in the display area. He concurred and we taxied to Golf two, shut her down and they helped park us on one of the helipads. 


I had not even finished securing The Predator when Tim showed up with his red Calidus and slipped in next to us.  He had brought chairs and a cooler in his back seat which he shared with us.

I do not have a camera that can capture the performers so I just took some pictures of the goings on.

Sammy Mason (the son of Rowena and Sam where we had repaired The Predator) was one of the first aerobatic performers in a Pitts and gets better each time I see him fly.


They had a D day parachute reenactment with original style chutes with very little directional control and a fast descent. All but one hit the target and all landed hard.  One parachutist landed in the crowd adding to the authenticity of the reenactment because many of the jumpers on D day missed their target by some considerable distance.

There were lots of world war two vintage aircraft flying with a nice aerobatic performance by John Collver in his AT6 Texan "War Dog".


Vicky Benzing in her Extra 300S gave a spectacular performance that took my breath away.


There was a great deal more that I have left out for brevity. 


Steven wandered around the event and was amazed at the diversity of the displays.

We prepared The Predator for flight as lots of military aircraft flew. The TFR ended at 5:00 and I was hoping to beat the rush for departure.  We needed to push out away from the crowds before starting the engine so Steven's mission was a little undefined and challenging.  We timed it just as airshow ground handed the control of our portion of the movement area and we were second to depart with Tim close behind. 


I had the controls because I was expecting the unexpected and turned them over to Steven as we crossed the first ridge near Lake Casitas.  This was the most turbulence Steven had flown in and he did well later telling me he felt comfortable.  There were scattered clouds over Carpentaria so I took the controls rather than trying to explain which way to go around the clouds while talking to Santa Barbara Approach.


The mist with the sun behind it restricted visibility and made it hard to judge distance so I made the decision to stop for gas at Santa Barbara in case the weather deteriorated.  I made a somewhat inelegant landing trying to stop before taxiway Hotel so that I didn't cross runway 25 because there was someone doing pattern work on runway 25.  I contacted ground and taxied to self-serve.


This was Steven's first landing at a class C airport and he felt it was "very orderly".  We talked to another pilot who had just come down from the Gaviota Pass and he recommended Gaviota over the San Marcos Pass for turbulence from the convective activity. 


I asked clearance delivery for a straight out from runway and my read back was correct.  We climbed into the mist and saw some clouds ahead.  Visibility was reported at ten miles but the sun reflected off the mist and made it hard to see or judge distance.  The higher we climbed the harder it was to see the road so I took back the controls because I didn't want to miss the turn over the Gaviota pass and fly into restricted area 2534A.  
Once we had made the turn I turned the controls back to Steven and his flying continued to improve. We followed California Highway 101 and turned left at Los Alamos to approach the airport from the South West to reduce the glare from the setting sun.

I have a new appreciation for how a cross country flight can help a student pilot's skills even if he does not possess the skillset to complete the mission unassisted.  
After an extensive blow by blow debrief in the hangar Steven headed back north and called me this morning to tell me he had made it safely back to Marin and that he loved our adventure together.

Next Saturday is an Air Show in Paso Robles where Paul, a friend with a Magni is going to fly his first Air Show. 
Steven is doing proper planning for this cross country complete with waypoints and estimated time of arrival.


BreeseAircraft.com
Gyroplane
Flight Training​​
​
Have questions or comments on this filght?  Please visit my Face Book version and post your comments!​


Click Here

​​
​​
Air Venture / PRA Convention  06 August 2017
I just returned from the Air Venture and the PRA convention experience.  It was two weeks of immersion in aviation and five days of driving 5,152 miles in an Avis Prius that averaged fifty miles to the gallon.


Air Venture is simply overwhelming.  I was able to hear Dick Rutan's story of flying the Voyager around the world without stopping for gas.  He is a great story teller and it is a great story.


I heard a great talk by Jerimiah D Jackson about his record setting cross country flight in his RV. Jerimiah was the second client I signed off for his check ride in a gyroplane.

There were lots of things to see and do and old friends to see and new friends to make.  After walking a lot of miles I left for the PRA convention at their airport in Mentone, Indiana.


Michael Burton did a great job of a flight review for me at the Fulton County Airport.  I will be changing the way I teach S turns over a road making it less of a performance maneuver and more of a ground reference maneuver.  I love to learn.


At the PRA convention there was a lot of gyroplane flying going on and the hangar was full at night.


I saw Dick DeGraw's new jump takeoff gyroplane and saw it jump and fly.  It is remarkably quiet and a beautifully crafted machine.


I saw Denis Shoemaker's beautiful gyroplane, it is kinetic art and he is selling kits now under the name Gyro Technic. He is doing a great job addressing the lower end of the gyroplane market building very beautiful machines that appear to fly very well.

I was honored to be in charge of the judging and saw a lot of beautiful machines and met their owners. 


Jeff Tipton and David McCutchen helped and taught me a lot. 


I saw a lot of interesting gyroplanes and met many interesting people.


The fireworks Friday night after the banquet were spectacular. 


Interest in gyroplanes appears to me to be expanding.

Have questions or comments on this filght?  Please visit my Face Book version and post your comments!
​​
Oceano Detour  24 July 2017
I love the freedom of the skies and the people at the airports.  
Sunday the blue skies called to me.
I thought I would go visit with people at Oceano and walk to any number of nice restaurants for lunch.  
As soon as I was up about 300 feet above the ground leaving Santa Maria (SMX) I could see a line of fog along the shoreline and it was not a good day to fly up the beach.  I let the tower know I would be making a slight right instead of a slight left. 

Oceano was just on the edge of the fog but I didn't want to get stuck there if the fog bank shifted, so I told San Luis Obispo Air Traffic Control (ATC) I would be coming in through the Avilla Pass.  As I approached the shoreline I could see the fog in the pass so I stayed at 1,200 feet and flew over the entrance to the pass and dropped down to 700 feet through the pass.  I love the freedom altitude gives me. 


On down wind I was number two behind a reginal jet; "caution wake turbulence".  I watched their take off roll and they rotated well past taxiway Foxtrot so I was good to go.  I had set up to touch down early in case the jet lifted off early, so I flew down the runway at about 50 feet and set her down right at Foxtrot and scooted off the runway. As soon as the rotor stopped I slipped between a Mooney and a Cherokee Six. 


As I was working through my post flight list a uniformed attendant from ACI Jet stopped by and began by admiring my parking job and asked if he could help me with anything. I am too cheap for full service so I told him no thank you.

There were two young men in camo flights suits who waited till I put my post flight checklist away before approaching.  They were the mechanics for the two Ospreys out of New Mexico.  They have been flying around Nipomo lately.  I was very impressed with these two that give hope for the future of the USA.
After lunch a Cobra pilot was fascinated with The Predator and asked a lot of good questions.  I also met a fellow from South Africa, his wife and two friends who had flown out of San Carlos.  I love the people airports seem to collect. 

As I taxied for takeoff the two Cobras and two Ospreys were off to my left so I pulled out my camera.
I still wanted to visit Oceano so I thought I would get gas there.

ATC launched the two Cobras before me and I made a left crosswind departure and soon saw the Avilla Pass was filled with fog, so I turned left and climbed to 1,500 feet and made ATC aware of my altered flight path.  I love that freedom and reveled in it as I flew over the low hills on the edge of the Edna Valley and saw that Oceano wasn't going to work out.  All of Arroyo Grande had disappeared beneath the fog and there I was with blue skies making my way back to Santa Maria.

I sat in the afterglow in front of the hangar for a half hour and was grateful for the freedom aviation provides for me.


Have questions or comments on this filght?  Please visit my Face Book version and post your comments!
Click Here 
​
A client canceled his flight today so I decided to fly to San Luis Obispo (SBP).  Things were limited because of two firefighting temporary flight restrictions (TFR) for the Alamo fire just to the North East and the Whittier fire to the South East.  
As I launched, I delighted in my three dimensional playground and the freedom of the skies.

When I arrived at SBP I was pleased to see a gaggle of Mooneys; some with familiar paint jobs.  Palmdale, Los Angles, San Jose, Fresno and Santa Maria were represented by Mooney enthusiasts. Mitch invited me over to the table on the patio of The Spirit of San Luis restaurant and we had some nice hangar flying with some remarkable aviators. 


My route back to Santa Maria was limited to the coast, so I asked for a left turn out to the east with a turn to the south along California Highway One through the Avilla Pass.  It was a little warm and humid at SBP so I loved the cool ocean air washing over me as I exited the Avilla over Shell Beach. That is part of the magic of flying an open aircraft low and slow. 

Pismo Beach looked like a popular place on Saturday with a steady line of RVs headed for the dunes.


I was set up for a left down wind but tanker traffic had ATC move me to a right down wind and I was to report midfield so I flew along the bluff of the Nipomo Mesa where we live.


I was about to report when I heard; "Gyroplane two Mike Golf; make short approach; runway 30 clear to land I have a tanker on a two mile straight in."  I take this as a high compliment because if he wasn't sure I could get off the runway quickly he would have simply told me to extend my downwind.  I dove for the taxiway Alpha Four running her up to 100kts (115 miles per hour) making a steep turn around the tower and setting her down as nice as could be at Alpha four and scooting across the hold short line.  ATC said; "Thanks for the help Vance, Gyroplane two Mike Golf taxi to parking via Alpha, Mike; monitor ground.  Some friends were watching the tanker operations and clapped as I went by.

It was a lovely end to a magical day of flying.

Have questions or comments on this filght?  Please visit my Face Book version and post your comments!
BreeseAircraft.com
Gyroplane
Flight Training​​
I was flying with a fairly new to aviation client today and we were doing ground reference maneuvers at 500 feet above the ground in 13 knot gusting conditions.  He was moving the cyclic about three inches in brief thrusts and we were still getting as much as 300 feet off of our desired track. 


We exchanged control of the aircraft and asked him to follow along on the cyclic.  I was not moving the cyclic more
than a half inch and stayed within five feet of our desired ground track.


I decided to try flying that way and on my last solo flight I tried to put myself inside his head.  It is no wonder that it makes him uneasy because I can stab at the cyclic and get no response at all and it is easy to imagine things are not happening to redirect the aircraft.  
The cyclic sends a message to the rotor and it responds at its own rate.

I believe he understands the concept of steady pressure on the cyclic to effect a change in the rotor disk angle and I feel his body is quarreling with his intellect.  It is not like driving a car where if you move the wheel you get an immediate response.


I used to have a 1949 Dodge panel truck that was like that. I would turn the wheel almost a quarter turn in either direction before anything happened. It was very exciting over the streetcar tracks and I found it disquieting. When I stepped on the brakes it would often lock up one of the wheels causing a further divergence from the desire

course.


He has been making great progress and I am would like to get him over this learning plateau.

If you are having trouble with over controlling try relaxing your grip on the cyclic and applying steady pressure in the direction you would like to turn. 


In my opinion the cyclic manages speed and direction, the throttle manages altitude and the rudder manages yaw and is not a directional control.  I feel you cannot sustain a climb with the cyclic, can't speed up with the throttle and can't steer with the rudder.

Have questions or comments on this filght?  Please visit my Face Book version and post your comments!
Santa Paula Flight 2 July 2017
I planned to fly to Camarillo for lunch at the Way Point Café and then on to Santa Paula for open hangar day. A thick fog filled the Santa Maria Valley as I headed down to the Santa Maria Airport to search the sky for signs of blue beginning a little before eight.  As is so often the case, things didn't work out as planned.

Santa Maria didn't go VFR till a little before ten despite my straining to find patches of blue and the temperature/dew point spread didn't reach four degrees till eleven.  There was a lot of blue in the sky and lots of scattered white clouds.  As I approached Lake Cachuma I could see the fog spilling over the ridge with a solid layer completely obscuring the ocean. Santa Barbara was visual meteorological conditions 1,800 foot ceilings and six miles visibility in mist but there was no visual way to get down through the clouds. There was a strong on shore breeze that pushed the fog hard up against the ridgeline with it spilling over a little in places. 


The San Marcos pass was completely blocked so I decided to climb up to 5,500 feet over the wilderness area. I love the freedom to climb over all the obstacles in my way. My world of rugged mountains expanded as I climbed higher.  With the head wind I was only making 50kts (58 miles per hour) of ground speed and it felt like we were stopped from that altitude. The terrain kept rising and I kept looking at my chart. It looked like 5,500 foot would manage the highest obstacle. With the mist blocking my distant vision it was hard to tell. Normally you can tell if you are high enough because the terrain behind the ridge gets taller as you get closer. The mist added mystery to everything.


The mist even dulled the normally jewel like Lake Casitas. Because of my late start I decided to go directly to Santa Paula and found a spot in the heavy traffic picking my ground speed up to ninety knots (104 miles per hour) to fit in with the faster planes in the narrow pattern (two RVs and a Twin Comanche. 


I had a delightful ham and eggs at the Flight 126 Café and had a nice visit with a helicopter flight instructor from Tehachapi who may get a gyroplane add on to his commercial helicopter certificate. He had been one of the RVs in the pattern. I stopped by Pat's hanger and got all the latest on recent aviation mishaps. As usual Pat's hangar was filled with aviation luminaries.  Several people asked me if I had seen the Red gyroplane and it tuned to be a different friend Pat in his red Calidus. 


Things didn't work out like I had planned but they were wonderful never the less.


Have questions or comments on this filght?  Please visit my Face Book version and post your comments!