BreeseAircraft.com
Gyroplane
Flight Training​​
Quick Learning Richard  01 May 2019
Some people are so bursting with energy they are a joy to be around; that is how I feel about Richard.


Richard is the first client that showed up at the gate where we just couldn't fly.  We did five hours of ground school in the hopes the winds would calm down. His enthusiasm was unyielding. 


This is a man that wants to learn to fly and we set a date for his next lesson.


He had already purchased an Air Command gyroplane and sought me out at the Ken Brock Freedom Fly in.  He has more questions than any three clients I have trained and keeping him on track will likely be our greatest challenge.


Because we had already done my standard introduction and preflight brief we moved quickly to flight.  There is still the mandatory seat belt, helmet and emergencies brief and we breezed through it.


He was wound a little tight till I demonstrated how The Predator could be thrown around with some steep turns and a power off vertical descent and then he relaxed a little.  If he has fear I could not find it.


We went out to my practice area and did turns about a point and S-turns over a road.  To say he did well would be an understatement.  Except for my coaching, he would have passed that part of his practical test. 


His turns around a point were to practical test standards going left and after finding the right tree and farm house good to the right too.  His S-turns over a road were slightly irregular but still to practical test standards for airspeed and altitude. 


The flight back to the airport was as good as I could have done with smooth control inputs and good speed and altitude control.


He did so well that when we returned to Santa Maria I never took the controls as I promised.  I just talked him through it and he landed as nice as could be.  I had not demonstrated a landing and usually take the controls when the client gets near the ground and make the round out and flare myself.


Richard didn't want to waste time for lunch so we went up again after a careful debriefing.  I made a right and then a left pattern and gave Richard the controls.  His very first intentional landing was a nice as could be.  His second required a little added power.  I never saw any signs of tightening up despite our somewhat precarious flight path.


I noticed the voltage was a little low and a minor oil leek had put enough oil on the alternator belt that it was slipping.  I took it to the Fixed Base Operator and he cleaned the engine bay carefully and after 20 minutes of running we could not find the leak.  The engine was as clean as could be.


This put an end to today's flying; we scheduled for the next Monday. 


We found the leak the next day and repaired it.


And a week goes by.


Richard called me at zero dark hundred and asked me what I thought of the weather because it was raining in Ventura about 90 miles to the south east.  I could hear the patter of rain on my window.  I fired up my computer and it was supposed to stop raining at Santa Maria (SMX) before 11:00 and continue to be above weather minimums for visual flight rules till eight PM.  Winds were not supposed to get over six knots. 


The man in charge of the particular weather we were looking at is proud if he is correct 65% of the time so there was considerable weather risk particularly for low clouds. 


We decided to meet at SMX at 10:00.


It was still drizzling when I went to the gate to let Richard in with gray dominating the sky.  Winds were 320 degrees at 3kts, six miles visibility with a ceiling of six hundred feet; this is below weather minimums for visual flight rules (VFR).


As we worked through preflight toward the end is inspect the alternator belt.  Because a Lycoming turns so slowly the drive sheave is big and the sheave on the alternator is small meaning it needs to be tight or it will slip. Part of the inspection is also to look for exposed chords in the belt.  As I was explaining that I saw some cracks in the belt and discovered it was coming apart along about 25% of its length.  Replacing the belt requires removing the spinner, propeller and propeller spacer. This is not a small job and takes around an hour.  Richard took the setback with a smile even when I could not find my extra belt in the hangar.


We headed off to lunch and the auto parts store. 


The rain had stopped and SMX had visibility of eight miles winds of 300 at six knots with a ceiling of a thousand feet (VFR). 


As we returned to SMX with the belt in hand; instead of being grumpy about the lost flight time Richard was excited to learn about working on the aircraft and excited to learn how to safety wire things correctly.  Richard has a nice feel for tools and he did a nice safety wire job on the six propeller bolts.  I am not a mechanic by trade so no charge for the safety wire instruction.


Every client is different and I try to modify my approach to suit the client.


Richard listens well and responds to verbal instructions well, so after the takeoff I gave Richard the controls and had him fly the pattern.  Most people forget things even in a week.  Richard flew beautifully on the first pattern and his first landing was so nice we both laughed aloud.  The second was less elegant needing a little burst of power and a "my aircraft" in the final moments before touch down.


The most task intensive part of flying a gyroplane is the takeoff, so I usually teach that after the client has mastered landings.  Before the third takeoff I gave Richard the controls and his learning accelerated.  By the end of the point eight hour lesson (48 minutes) his takeoffs were pretty good and the seventh and last landing was nearly as elegant as the first.


In the debrief Richard made it clear he felt comfortable flying and was ready for more. 


There is a lot going on with little time to rest in a single pattern and seven landings will wear most people out. 


At that time my 5:00 appointment called to say he would be late so off we went.  I saw both steady improvement and new errors in the next five landings over the half hour mission. 


During the debriefing I realized that, despite my instruction and demonstration, Richard still believed in his heart that the rudder steers the aircraft.


We have an exercise planned for next Monday to change that.


I love giving people like Richard flight instruction because of his good attitude and strong desire to learn.


In summary after 2.7 hours of dual flight instruction Richard, a client with very limited aviation experience can do the required air maneuvers to practical test standards and land and takeoff without instructor intervention.
Fifteen hours of dual instruction is the minimum required for Sport Pilot, Gyroplane.  We still have to do different takeoffs and landings a few air maneuvers and a cross country.  I suspect we will make it in the minimum times.

Have questions or comments on this filght?  Please visit my Face Book version and post your comments!​
Click Here​​​
BreeseAircraft.com
Gyroplane
Flight Training​​​
Johah's Flight  26 April 2019

Jonah is an amazing young man full of enthusiasm and focus.  He approached our adventure with great resolve to become a gyroplane pilot.


He listened intently to the briefing and had lots of good questions.


Jonah has no gyroplane piloting experience and a lot of desire.


I gave him the controls soon after liftoff and he quickly became familiar with them.


I demonstrated steep turns, pedal turns and slow flight followed by a vertical descent and gave him back the controls.


The winds were coming up as we made our way toward the Pacific and he managed the rolling air off the beach well.


He learned quickly and would respond to the slightest instruction with immediate improvement. 


It was windy by the time we reached San Luis Obispo and his wife met us for lunch.


Jonah did very well on the way back to Santa Maria and we did some ground reference maneuvers. 


He didn't feel comfortable landing so I landed her.


He listened attentively during our debriefing. 


I have no doubt he will apply everything we talked about and he made an appointment for the very next Sunday. 


I am looking forward to it.

Have questions or comments on this filght?  Please visit my Face Book version and post your comments!​
Click Here​​​
BreeseAircraft.com
Gyroplane
Flight Training​​​
Sue's FIight  25 April 2019
I received a call from a woman in Boston with a great voice while I was in Florida asking about a flight in a gyroplane in California.  Sue was going to visit with her son Rick in the San Francisco Bay area (both single engine land pilots) and drive down the coast to Santa Maria.  Rick was curious about gyroplanes too.
It was overcast as I worked through my introduction, explanations, preflight and safety briefing.  Sue is an electrical engineer and asked some great questions that sounded as though she had a good grasp of mechanical engineering.  Rick didn't say much.
The ceiling was still a little low at 1,600 feet when we departed and headed for the beach.  I gave Sue the controls and her airspeed control was exceptional as we made our way across the Santa Maria Valley.  I did not sense any trepidation.  Once out of SMX airspace I demonstrated steep turns, slow flight, pedals turns and a power off vertical descent.
I gave her back the controls and Sue flew very well. She had all the aircraft controls when I was taking the pictures.  If someone is making me nervous the camera stays in my pocket.
She adjusted well to the slower response on the controls with a gyroplane compared to a fixed wing.  I could feel her trying to get a feel for the response pushing at things in a very progressive way.
The ceiling was a little low to do proper ground reference maneuvers so we cut our flight a little short and I made the landing.
I love the people I meet as a flight instructor and love sharing the joy I find at the controls of a gyroplane.
I enjoyed Sue's enthusiasm a lot and she is a quick learner.  Adding Sport Pilot Gyroplane to her private pilot certificate should be quick and fun.

Have questions or comments on this filght?  Please visit my Face Book version and post your comments!​
Click Here​​​
BreeseAircraft.com
Gyroplane
Flight Training​​​
Sport Pilot Rating  01 April 2019
Because I don't have a very good memory I often pull out the Federal Aviation Regulations to answer questions.

I have slightly modified the details of the exchange so that it fits more people.
I was talking with a pilot at Bensen Days and he was describing what he was doing to earn a Sport Pilot, Gyroplane rating.  He held a private pilot single engine land pilot certificate.
He had been looking at 14 CFR § 61.313 - What aeronautical experience must I have to apply for a sport pilot certificate?


(1.) 20 hours of flight time, including 15 hours of flight training from an authorized instructor in a gyroplane and at least 5 hours of solo flight training in the areas of operation listed in § 61.311.
(i) 2 hours of cross-country flight training,

(ii) 10 takeoffs and landings to a full stop (with each landing involving a flight in the traffic pattern) at an airport,

(iii) One solo cross-country flight of at least 50 nautical miles total distance, with a full-stop landing at a minimum of two points, and one segment of the flight consisting of a straight-line distance of at least 25 nautical miles between takeoff and landing locations, and

(iv) 2 hours of flight training with an authorized instructor on those areas of operation specified in § 61.311 in preparation for the practical test within the preceding 2 calendar months from the month of the test.

I directed him to § 61.321: How do I obtain privileges to operate an additional category or class of light-sport aircraft?
If you hold a sport pilot certificate and seek to operate an additional category or class of light-sport aircraft, you must -


(a) Receive a logbook endorsement from the authorized instructor who trained you on the applicable aeronautical knowledge areas specified in § 61.309 and areas of operation specified in § 61.311.  The endorsement certifies you have met the aeronautical knowledge and flight proficiency requirements for the additional light-sport aircraft privilege you seek;


(b) Successfully complete a proficiency check from an authorized instructor other than the instructor who trained you on the aeronautical knowledge areas and areas of operation specified in §§ 61.309 and 61.311 for the additional light-sport aircraft privilege you seek;


(c) Complete an application for those privileges on a form and in a manner acceptable to the FAA and present this application to the authorized instructor who conducted the proficiency check specified in paragraph (b) of this section; and


(d) Receive a logbook endorsement from the instructor who conducted the proficiency check specified in paragraph (b) of this section certifying you are proficient in the applicable areas of operation and aeronautical knowledge areas, and that you are authorized for the additional category and class light-sport aircraft privilege.
He had already demonstrated all the flight proficiency requirements listed in FAR 61.311 so all his gyroplane flight instructor needed to do was fill our form 8710-11 and refer him to another CFI for his proficiency check ride.
I suspect that some others have made this error so I thought I would share this story.
If you want to see the wording or FAR 61.311 just type it into the search window or borrow someone's copy of the FAR/AIM.
​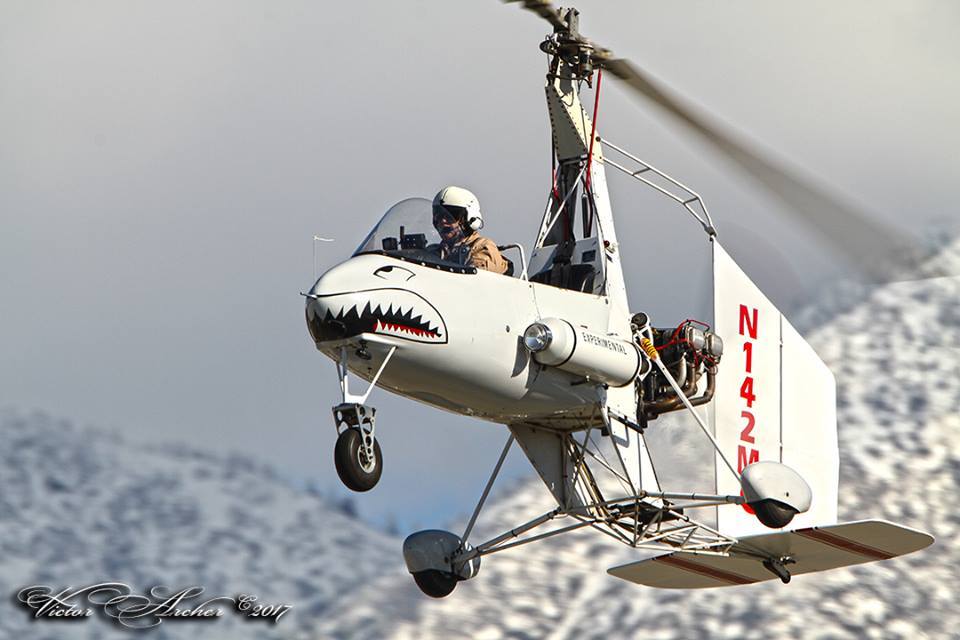 Have questions or comments on this filght?  Please visit my Face Book version and post your comments!​


Click Here​​​
BreeseAircraft.com
Gyroplane
Flight Training​​​
Endorsement for Class B, C and D Airspace  07 April 2019
While at Bensen Days I was approached about endorsing a Sport Pilot's log book for privileges in Class B, C and D airspace so I pulled out my FAR/AIM and looked up 61.325.  The question arose with some debate about what the pilot was required to demonstrate in his aircraft and where.
In my opinion, the pilot is only required to perform three take offs and landings at any towered airport.
Another CFI felt this needed to be performed at all three classes of towered airports.
I felt the exchange highlighted an area of confusion so I thought I would write about it.
The aeronautical knowledge part of it is very important so be prepared to demonstrate or learn what you need to know to operate in B,C and D airspace as outlined in 61.325.
§ 61.325 How do I obtain privileges to operate a light-sport aircraft at an airport within, or in airspace within, Class B, C, and D airspace, or in other airspace with an airport having an operational control tower? 


If you hold a sport pilot certificate and seek privileges to operate a lightsport aircraft in Class B, C, or D airspace, at an airport located in Class B, C, or D airspace, or to, from, through, or at an airport having an operational control tower, you must receive and log ground and flight training.  The authorized instructor who provides this training must provide a logbook endorsement that certifies you are proficient in the following aeronautical knowledge areas and areas of operation: 


(a) The use of radios, communications, navigation system/facilities, and radar services. 


(b) Operations at airports with an operating control tower to include three takeoffs and landings to a full stop, with each landing involving a flight in the traffic pattern, at an airport with an operating control tower. 


(c) Applicable flight rules of part 91 of this chapter for operations in Class B, C, and D airspace and air traffic control clearances.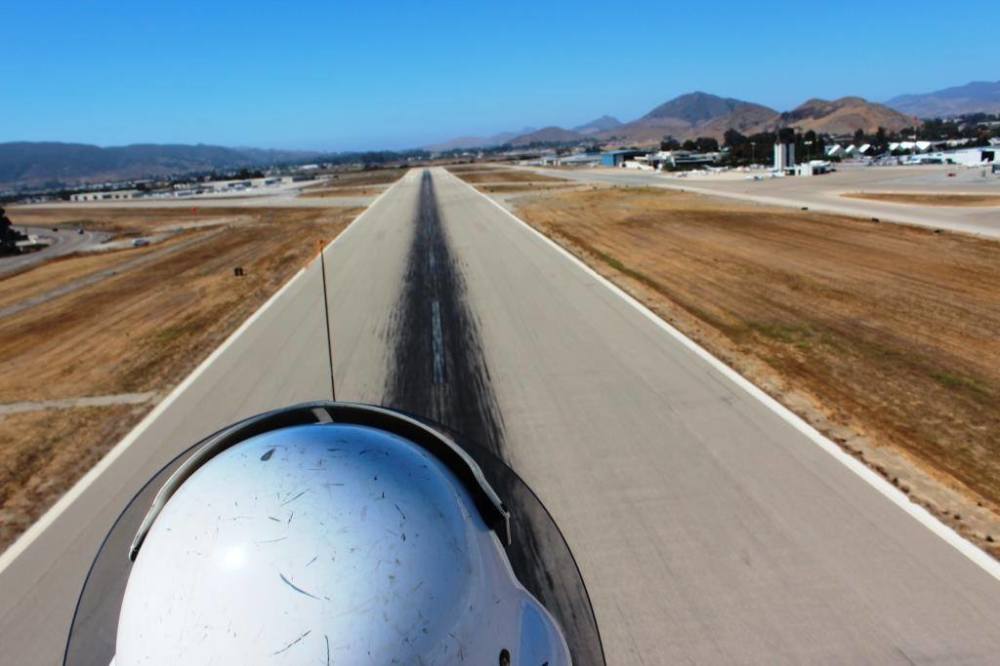 BreeseAircraft.com
Gyroplane
Flight Training​​​
Have questions or comments on this filght?  Please visit my Face Book version and post your comments!​


Click Here​​​
Aircraft inspection  14 July 2019
The value of carefully inspecting aircraft.
Sometimes people want me to teach them to fly in a gyroplane they already own.  
I have a firm policy that it needs to have a current annual condition inspection done by an A&P mechanic that I know.
I have seen too many sloppy annual condition inspections to assume a stranger has done a good job.
I am not a professional mechanic and do not want to rely on my mechanical skills for our safety.
The client had trailered his gyroplane from out of state and the first thing we found was a problem with the steering stem.  We felt it was bent beyond our ability to make a field repair.  We found another part and she is now back on her wheels.  I suspect if we had flown her things would not have gone well.  I like to think I would have noticed during ground operations but I am not certain.
As we were assembling the rotor blades and hub bar, the A&P mechanic noticed the rotor blade retention bolts had marks on them he could catch his fingernail on indicating that the blades had been moving in flight.  They only had about 15 hours of flight time.
As I torqued them down to 44 foot pounds they just didn't feel right to me.  On further inspection I found the bolts were just a little too long or the washers too thin and the nuts bottomed out on the base of the threads reducing the clamping force.  I used three thinner hardened washers to get the correct length.  The difference in how they feel when they are torqued down is significant.  It is not unusual to find this with aircraft hardware because they are trying to keep the threads out of the hole.  There are actually several different thickness of AN washers available for this very reason.
I ordered a castle nut for the teeter bolt because I did not feel comfortable with the elastic stop nut in that application per FAA AC 43.13-2B.
The A&P also found a stainless braded line trying to saw through a radiator hose. The hose was new.
The last bit of potential trouble was an on-off valve on the fuel tank breather that was sort of hidden behind the seatbelts.  I don't know what would have happened if I had left it closed.  I suspect we would have run out of gas.  It was mentioned in passing in a call to the previous owner over something unrelated.  It was not on the preflight check list.
I take preflight and conditions inspections very seriously and this is not the first time it has mitigated a potential hazard.
This aircraft had some of the best log books I have seen.  The person who owned this gyroplane previously is a first rate mechanic and had flown her recently; yet these problems were present when the aircraft reached Santa Maria, California.
I am working with the client on a more comprehensive pre and post flight check list.  He is a high time Vietnam era helicopter pilot with over ten thousand hours in Rotorcraft and he believes in the rigorous use of check lists.  I am proud to work with him.
Please, this is about condition inspections and pre-flight inspections and what we found.  It is not about a particular brand of anything.  If you have a negative opinion about a particular brand pleas keep it to yourself as it diminishes the focus of the post.  I fly all gyroplanes and love them all.  I have yet to have a condition inspection done on any brand of gyroplane that didn't find something amiss.

Have questions or comments on this filght?  Please visit my Face Book version and post your comments!​
Click Here​​​
BreeseAircraft.com
Gyroplane
Flight Training​​​
Dave's First Cross Country Gyroplane Flight.  28 January 2019
Dave is a primary student (no other rating) so he has specific things he is supposed to do before he can be signed off for his practical test. Most can be done in the pattern or in the practice area. In my opinion, one of the most important (and often neglected) is the cross country planning and then actually executing the plan.
This is where all the separate skills that have been learned are applied along with aviation decision making.
I feel there is a lot to be learned from this exercise and I have been accused of overemphasizing the importance and detail.
Flying is expensive and planning is pretty much free. I think of it as aviation foreplay. In my experience the more thorough the planning the more joy I find in the flight.
Dave seems to share my affection for good flight planning and he used flight planning tools like Google Earth, AirNav, Sky Vector and Flight Service extensively.
He marked up a Sectional Chart with his route and way points (typically every five miles) and had it available in a zippered plastic bag with his flight plan on the other side.
This would be his first time at a non-towered airport so we practiced radio calls a lot on the ground and sometimes on the actual flight.
Dave had already postponed his cross country flight once because he felt he was not ready so when he started to balk I reminded him: the more mistakes he made, the more and better he would learn. I was there to fix anything that put us at risk.
Life had gotten in the way and he had not flown for almost two months. I had him for half a day on Friday and all day Saturday, so Friday we practiced landings and reviewed his flight plan. We had intended to practice on the cross wind runway (2-20) at Santa Maria (SMX) because it is seventy five feet wide just like the runway at Santa Ynez so the site picture is different from the 150 foot wide main runway (12-30). We had some things to work out, because of his lack of recent experience, so we didn't get around to landing on runway two zero. I had also changed the trim and that took some getting used to. We made seven landings in .8 hours. Dave has only landed on runway two zero once and that was with a seven knot direct cross. We decided two zero practice could wait till Saturday.
It will not be surprising, for those who have done their own cross country, that not everything went smoothly. We did ground till a little after five PM Friday so Dave could get started on refining his flight plan at his motel in Solvang. The power was out and he couldn't even check in till near midnight and the internet was going to be down till at least one o'clock.
He got up at 5:00 and refined his plan so he could be at SMX at 9:00.
After going over his updated plan in detail, Dave did a careful preflight on The Predator before checking the weather. There was very little wind correction angle or changes in his estimated time in route, so we printed out his flight plan that he had done on power point so he could name his waypoints. I liked this lot. Sky Vector just has "user fix" waypoints in their nav log and is a good example of the way Dave makes the extra effort to excel.
Winds were calm and runway three zero was in use, so Dave asked ground for a takeoff from runway two zero and closed traffic. Ground was a little confused so I chimed in and explained the desire for the narrower runway.
Aviation people seem to know what an important milestone the first real cross country is and are all very supportive.
As I expected Dave made two nice landings and learned something on each one. Dave asked for a straight out with a turn to the south and it was approved as requested.
Dave was flying beautifully and appeared to be looking around more than usual. I could feel the confidence in his control inputs as we basked in the magic of the flight. The hills have greened up from the recent rains. The air was fresh and clean with a constantly changing aroma of the wet earth and whatever was growing there. Dave is a motorcyclist and The Predator was our motorcycle in the sky.
We were within a minute on the estimated time in route on each of his six waypoints and the sky was so clear he could usually see at least one waypoint ahead.
Dave found he had trouble writing and flying so I wrote down the time of arrival at the way points as he told them to me. Cockpit management is part of the learning process. Dave said he is going to practice flying with his left hand on the cyclic or learn to write with his left hand.
Dave did well with his radio calls knowing the reason for each piece of information and where the call should be made. Sometimes, in his effort to not waste airtime, he would get in a hurry and leave something out. It is just a matter of practice.
"Santa Ynez area traffic, white gyroplane Two Mike Golf, five miles to the west over the quarry at one thousand seven hundred feet inbound left traffic runway two six, slow moving sixty knots, Santa Ynez."
We had examples of both good and bad radio calls at IZA reinforcing the value of a correctly made radio call.
We came in as nice as could be and were off at Charlie.
I had not briefed Dave enough about where to go after landing and Dave could see this was an important part of the planning process.
I could feel Dave's elation as we pulled up to parking.
We spent nearly an hour applying the lessons learned to the plan for the next leg to Lompoc (LPC) and sharing

Dave's milestone with several friends in the pilots lounge.
We were within a minute of our estimated time of arrival and the fuel burn was exactly what it should have been. It was a good plan and well executed.
The rest of Dave's story to follow..
.

Have questions or comments on this filght?  Please visit my Face Book version and post your comments!​


Click Here​​​
The rest of Dave's first cross country story.  29 January 2019
We called flight service for the current weather and we were still on the edge of a SIGMET for turbulence and wind shear below 10,000. The turbulence is not unusual but rising to the level of SIGMET is.
Dave wanted to get the weather at Lompoc on the ground so we could listen to the Lompoc common traffic advisory frequency as soon as we passed over Buellton. This can be a busy corridor and we wanted to be on one of the CTAFs all the time. We checked the AWOS at Lompoc and the wind was 250degrees at 8kts so we planned on runway 25. Dave made the correct fifteen degree correction from true to magnetic. (Runway headings are magnetic and AWOS winds are true).
We had someone doing pattern work so I told Dave to announce and line up for takeoff and pre-rotate as soon as he passed us. There was a Cessna 172 behind us. This put some pressure on Dave to expedite and he responded well.
Noise abatement had us flying a 210 degree departure and then a turn to the west over the river. Dave's takeoff was as nice as could be and he picked a landmark that was 210 degrees because the wind had us crabbing a lot.
We headed west over the river and made our last call at Buellton before switching to the Lompoc common traffic advisory frequency.
Dave misidentified his first waypoint. It is a large round flat structure that Dave felt was a missile silo. Our ETA was short and we had a head wind so Dave started looking for the problem. He was surprised to see a second peculiar round flat structure and now we were a minute late. On Google Earth the large round flat tank had looked unique.
After making his first radio call we heard a radio call that was completely unreadable and I feared it was the jump plane. The landing zone for the jumpers is beneath our right down wind for runway two five so I am cautious about the jumpers. I got on the radio and announced the last call was completely unreadable and got no response. I told Dave we would fly a wide right downwind for runway two five to miss the jumpers, just in case, and it would probably keep us out of the way of the jump plane until he was on short final.
As we got closer, Dave identified a single jumper and we heard two more unreadable radio calls.
Because there was no understandable response we announced inbound on the forty five, downwind mid field, and were about to turn base when we saw the jump plane in a steep descent apparently ready to make a straight in. I announced that we would extend our downwind for inbound traffic. Shortly after that someone announced that they were on downwind to land on runway two five so Dave made our base turn as soon as the jump plane went by.
Dave lined up nicely and landed just a little fast. I pushed him to get off the runway as soon as possible because I didn't know how far the second plane was behind us. I did not hear him announce turning base or final.   We had taxied for quite a way before he touched down. Dave and I were both a little rattled by the experience.
We debriefed about the radio work and the flight, called flight service for an abbreviated briefing and did our run-up.
"Lompoc Traffic, White Gyroplane Two Mike Golf lining up for takeoff runway two five for a right down wind departure with a turn to the north over highway one departing over Harris Grade, Lompoc."


The takeoff was nice as could be with a little confusion about where the downwind was followed by a second call: "Lompoc traffic, white gyroplane two Mike Golf turning north over highway one departing to the north over Harris Grade." Dave had left out the altitude and, just as though I had ordered a teaching aid, a Piper reported over Harris Grade inbound for runway two five. He also left out his altitude. Dave came back with our altitude (one thousand seven hundred feet) and our position (three miles to the north of the Lompoc Airport) and the Cessna responded that he would remain above 2,000 feet. It was a perfect demonstration of the value of (what I feel is) good radio communication and in stark contrast to our experience coming in to Lompoc. Shortly after Dave caught sight of the inbound Cessna and reported traffic in sight, no factor.
We cleared the grade and checked the ATIS at Santa Maria and called Tower inbound eight miles to the south at one thousand three hundred feet. We were to report the Orcutt Y.
This is the flight back from our practice area so Dave is familiar and it felt like an old friend. We were cleared to land on runway three zero over the Orcutt Y.
It was getting a little gusty and Dave's control inputs were smooth as could be.
As we descended I suggested we land to practical test standards which are plus two hundred feet, minus nothing. Dave touched down about eight feet short of our mark.
I could almost feel Dave's relief as he pulled up in front of the hangar and worked through the shutdown checklist.
We were exhilarated and exhausted as we debriefed.
Dave is going to do a more detailed debrief and share with me, what went well and what went less well, and we will go over it the next time we get together.
I felt it was a wonderful demonstration of the application of the aviation fundamentals we had been working on.

Have questions or comments on this filght?  Please visit my Face Book version and post your comments!​


Click Here​​​
BreeseAircraft.com
Gyroplane
Flight Training​​
When it rains we get wet.  18 December 2018
I had a long conversation with Eric from Texas and told him that; based on his experience and our conversation we could probably get him signed off for his Sport Pilot Gyroplane proficiency check ride in three days of hard work; weather permitting.
He is an experienced single engine land pilot with an instrument rating and had been an active part of his local FAST team so I suspected he was current on the Federal Aviation Regulations.
I train out of the Santa Maria Public Airport with very benign weather for training. We often have fog in the morning and wind in the afternoon. We sometimes have scattered rain showers; it is rare for it to rain all day.
I called Eric Monday and made him aware that there was rain predicted for some of his three day visit and he might want to wait. Wednesday was 37%, Thursday was 65% and Friday it was 78% chance of rain. After we made some fun of the ability to predict weather he decided to come ahead.
I have been told by one of the best weathermen in the business that they win awards for accuracy if they are right 65% of the time. They would not have won any awards for those three days and the prediction seemed to change every few hours.
The Predator is open and if it rains we get wet. The last time I got wet so did my transponder and I had to have it replaced and the replacement. The certification costing over $550 so I am cautious about flying in the rain.
I checked the weather Thursday evening when Eric called to say he had arrived. We moved our meet time up to 8:00AM Wednesday in order to give us the maximum chance at weather.
I checked the weather before I left the house and SMX was visual flight rules. When I arrived the new Automatic Terminal Information Service (ATIS) had just come out and it was four miles visibility with an 800 foot ceiling. Minimums are three miles and 1,000 foot ceiling. I could not see the tops of the hills west of the airport.  
I had done the preflight the night before and figured I could teach him about preflight in the afternoon.  
I had sent him lesson one so he knew what to expect. He had experience with a free castering nose wheel and based on our conversation I began with Eric in the front seat. I went through the safety briefing and explained the instruments and controls of The Predator. This is not a small job to familiarize someone with the instruments, switches, controls and procedures and Eric did well in less than an hour.
We checked the weather often to try to identify trends and searched the sky for any sign of blue. We mostly saw clouds with dark bottoms.  
I had Eric call Flight Service to get a weather briefing and VFR (visual flight rules) was not recommended.
Eric was meticulous about check lists so off we went. Normally I don't let people land our takeoff in The Predator till they have flown ground reference maneuvers to practical test standards. The Practice area is about ten miles south of the airport and I didn't want to get stuck out in the rain for a half hour so we decided to do pattern work first. This makes learning the sight picture more difficult.
I did the first takeoff and the first landing and gave the aircraft controls to Eric. Based on his experience he was making the radio calls from the beginning. I talked him through his first landing and did not have to touch the controls. On his first takeoff things looked very good. When doing pattern work at SMX we request a stop and go down wind mid field and runway three zero was clear for stop and go. As we turned base I felt some rain drops so I told Eric to ask for a full stop landing. The communication didn't go well and he asked for and was approved for a full stop landing on short final. I cannot talk to Eric when he is talking to the tower. He finished just in time for me to say; "begin your round out and look all the way down the runway". We ballooned up a little and Eric handled it nicely with a somewhat aggressive flare at the end. Eric's first flight in The Predator was four tenths of an hour.
It was drizzling by the time we reached the hangar so we quickly stashed The Predator and we headed off to lunch.  
It stopped raining during lunch so we hurried back to the airport only to have it begin to drizzle as we went through the startup procedure.  
This was a pattern that would repeat itself for the next two days.  
Day one we snuck in a second flight of point five hours with seven takeoffs and landings for a total of point nine hours of dual instruction with nine landings; all in the pattern.
When we finished it was still instrument meteorological conditions (IMC) so we covered the pre-flight inspection.
We checked the weather for Thursday and went for optimism despite the dark forcast. I decided I would call him in the morning with a more updated weather report and would probably cancel.  
It was gloomy Thursday at 5:00 AM when I first checked the weather.  
It stopped raining at the house around 9:00 so I called Eric and told him that I was headed down to the airport in case it stopped raining for long enough to fly. I told him I would not charge him for ground and only charge for dual instruction. I felt his long trip and commitment might be for naught and without briefing and debriefing I was floundering with such a high percentage of ground. I don't like to charge for floundering.
We would get ready to fly several times only to have it begin to rain and as the sun set we still had not flown. Eric had some great questions and took full advantage of the free ground instruction.
We check the weather before leaving the airport and rain was predicted to last all day Friday. We were running out of time and decided to meet at the airport anyway.
To our delighted surprise; Friday was blue skies and very little wind in the morning and we took full advantage of it to do ground reference maneuvers getting turns around a point, S turns over a road, recognition and recovery from low airspeed and a high rate of decent, slow flight and steep turns finished to practical test standards. When we got back to the field Eric did five landings. The total flight time was one point three hours. I don't like to do long missions but we were trying to suck all the benefit out of the good weather.
I could feel through his control inputs that Eric was becoming more confident.
We were both struggling with too much mission focus and made an extra effort not to shortcut anything.  
Friday afternoon we were struggling with 28kt gusting winds and still managed the rest of the required takeoffs and landings. Eric cut it a little short at four tenths of an hour because he was starting to make mistakes. He had trouble separating the environmental inputs from his control inputs. I only took the controls once.
Eric worked my check lists hard. He is responsible for some changes in the pre-takeoff list and I may start over again with a different format. I am usually the one pushing check lists. Eric wants to do thing perfectly so he needed better check lists.
We headed back to the hanger to fill out his 8710-11 to authorize a proficiency check ride. It was the end of the month and signing it Saturday would give him an extra month to get his check ride done so that became the new plan.
We speculated at length about how much time he needed to catch his flight out of Los Angles.  
Rain showers were predicted for Saturday so we didn't give flying much thought.  
It was blue skies and calm winds when we arrived at SMX on Saturday morning so we finished up all the things Eric felt unsure about and with eight tents of an hour of dual instruction and he still managed to catch his plane out of LAX.
In retrospect the extra ground instruction on Thursday helped us accomplish the mission.
I have no doubts that Eric will ace his proficiency check ride weather permitting.
Eric plans to return to fly with a little less pressure to learn some more advanced maneuvers.

BreeseAircraft.com
Gyroplane
Flight Training​​
Have questions or comments on this filght?  Please visit my Face Book version and post your comments!​
Click Here​​​
Crazy Uncle Jim   8 December 2018 
I am the crazy uncle for my niece Claire so I understand the crazy uncle thing.  Everyone should have a crazy uncle and Lillie Lemon's is Jim.
I have an all-day deal where we fly to San Luis Obispo for lunch and do enough flying to land.  Jim wanted to add Lillie and as a flight instructor it is more challenging to address two people with different agenda's.
Jim is a widely traveled adventurer (crazy uncle) and Lillie Lemon is a talented musician into Indie Electro-Pop.  I didn't know what it was so I listened from her Facebook page and I liked it.  Lots of energy.
Jim wanted to find out if he wanted to make the commitment to fly gyroplanes and Lillie was hanging out with crazy Uncle Jim and knew whatever he did would be fun.
We worked through preflight and the briefing and both asked good questions.  
I took Jim up first and he did well.  We had some work to do on the ground reference maneuvers.  He seems fearless and took instruction well.  
He wasn't quite ready to land.  He had forgotten how to lower his face shield and the wind in the back seat caused his eyes to tear up and coat the inside of his glasses with salty tears.  He was also having a little trouble hearing instructions over the intercom.
Lunch was the next challenge because they were both vegans.  Fortunately, near the airport is the Natural Café, so off we went for a nice lunch.
After lunch it was Lillie's turn and she did as well as any inexperienced gyroplane pilot I have flown with.  
Conditions were not ideal and Lillie's hands became cold enough to lose feeling in them.  I had gloves on board but she didn't know to ask and was not comfortable flying numb.
Jim improved dramatically on his second flight learning to work the face shield and tighten up the helmet strap so he could hear me better.  By the end of the lesson I felt he was ready to land and it was a good one with very little coaching and little input from me.  
He was trying so hard he may have forgotten to have fun.
I hope Jim will be back; he listens well and is fun to instruct.

Have questions or comments on this filght?  Please visit my Face Book version and post your comments!​
Click Here​​​
BreeseAircraft.com
Gyroplane
Flight Training​​